Where To Buy
Ashmore

Ashmore 

Beenleigh

 Boonah

Boyland

Burleigh Heads

Caboolture

Caloundra

Chandler

Forestdale

Hendra

 

Mount Nathan 

Mt Warren Park

 North Maclean

 

North Maclean

North Tamborine

Oxenford

 Raceview

Rochedale 

Redlands

Slacks Creek

Tweed Heads

Warana

Western Suburbs
  
 
 
| | | | |
| --- | --- | --- | --- |
| Ashmore | Ashmore Garden World | 1 Transport Pl, Gold Coast QLD 4214 | 07 5539 1110 |
| Ashmore | Nuway Landscape Supplies | 650 Southport Nerang Road, Ashmore Qld 4214 | 07 5597 3433 |
| Beenleigh | Mitre 10 MEGA | 204 Main St, Beenleigh QLD 4207 | 07 3441 9500 |
| Boonah | Mitre 10 | 4 Park St, Boonah QLD 4310 | 07 5463 1805 |
| Boyland | Australian Lawn Concepts/Lawn Block | 48 Four Mile Lane, Boyland, Queensland, 4275 | 07 5541 7077 |
| Burleigh Heads | Betta Landscape Supplies | 6 Rothcote Ct, Burleigh Heads QLD 4220 | 07 5593 7005 |
| Caboolture | Landscape City | 22 Roseby Road, Caboolture Qld 4510 | 07 5499 0299 |
| Caloundra | Caloundra Produce & Landscape Supplies | 51 Pierce Ave, Little Mountain QLD 4551 | 07 5499 7188 |
| Chandler | Nuway Landscape Supplies | 2630 Old Cleveland Road, Chandler Qld 4155 | 07 3390 2477 |
| Forestdale | Nuway Landscape Supplies | 2-16 Staplyton Road, Forestdale QLD 4118 | 07 3800 5433 |
| Hendra | Hendra Hardware | 23 Zillman Rd, Hendra QLD 4011 | 07 3268 7161 |
| Mango Hill | Nuway Landscape Supplies  | 1823 Anzac Ave, Mango Hill, QLD, 4509 | 07 3491 6372 |
| Mount Nathan | Green Life Garden Centre | 463 Beaudesert Nerang Rd, Mount Nathan QLD 4211 | 07 5514 6044 |
| Mt Warren Park | Smart Stone Landscape Supplies | 145 Beaudesert Beenleigh Rd, Mount Warren Park QLD 4207 | 07 3807 5355 |
| North Maclean | Horticultural Touch Garden Centre | 5 St Aldwyn Rd, North MacLean QLD 4280 | 0429 269 771 |
| North Maclean | Rock Around The Block | 563 Teviot Road, North Maclean, QLD 4280 | 1300 136 895 |
| North Tamborine | AM Landscape Supplies | 85 Hartley Road, North Tamborine | 07 5545 3390 |
| Oxenford | Oxenford Landscape Supplies | 139 Old Pacific Highway, Oxenford QLD 4210 | 07 5573 6388 |
| Raceview | Plants Plus Ipswich | 71 Wildey St, Raceview QLD 4305 | 07 3281 3742 |
| Rochedale | Turner's Garden Centre | 473 Miles Platting Rd, Rochedale Brisbane 4123 | 07 3341 5214 |
| Seventeen Mile Rocks | Nuway Landscape Supplies | 12 Jennifer St, Seventeen Mile Rocks QLD 4073 | 07 3715 6200 |
| Slacks Creek | Nuway Landscape Supplies | 488 Loganlea Road Slacks Creek Qld 4127 | 07 3808 8442 |
| Thornlands | Nuway Landscape Supplies | 249 Cleveland-Redland Bay Rd Thornlands Qld 4164 | 07 3207 7800 |
| Tweed Heads | Boyds Bay Landscape Supplies | 1 Wollemi Place, Tweed Heads West NSW 2485 | 07 5536 1440 |
| Warana | iLandscape | 200 Nicklin Way, Warana QLD 4575 | 07 5493 5975  |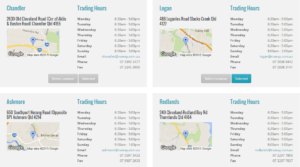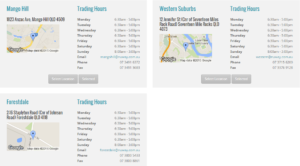 You can call us on 07 5541 7077
or Visit us at our turf farm at 48 Four Mile Lane, Boyland QLD 4275
Why choose us
Have your dogs dug up your beautiful lawn?
Has your trampoline destroyed your lush green grass?
Has too much shade killed your pride and joy lawn?

Lawn Block is the No Sweat Lawn Repair
Premium quality lawn turf grass varieties
Cut smaller for your ease of installation
Pick up from your local participating

Landscape Supplies Stores
or Call today on (07) 5541 7077
You can also visit us at our turf farm at 48 Four Mile Lane, Boyland QLD 4275
no sweat lawn repair
Testimonials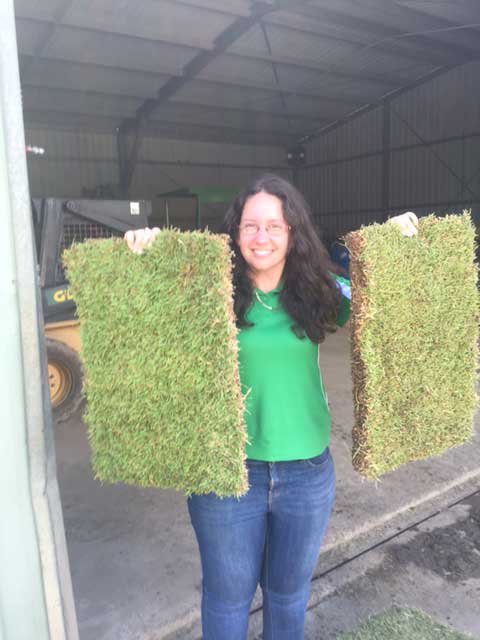 Lawn Block
..Sooo Much Easier!
Contact Us
About Us
Lawn Block
661 Mundoolun Connection Road,
Boyland Qld 4275
Australia
p: 07 5541 7077
Trading and Delivering
Monday – Friday 7.00am-5.00pm
Saturdays 8.30am – 12.00pm